CarWil designs and manufactures bolt together LHD buckets that can be modularly assembled onsite without welding. These modular components are specifically designed to meet customer's wear requirements and are available for most LHD models. A mechanical bucket increases bucket availability by reducing rebuild turnaround time, maintenance costs and spare buckets in the fleet.
Rebuilding a bucket in less than 6 hours without any welding will reduce your overall costs and make your operation safer and more productive.
High availability of asset
Field service friendly
Replaceable wear components
Ideal for confined spaces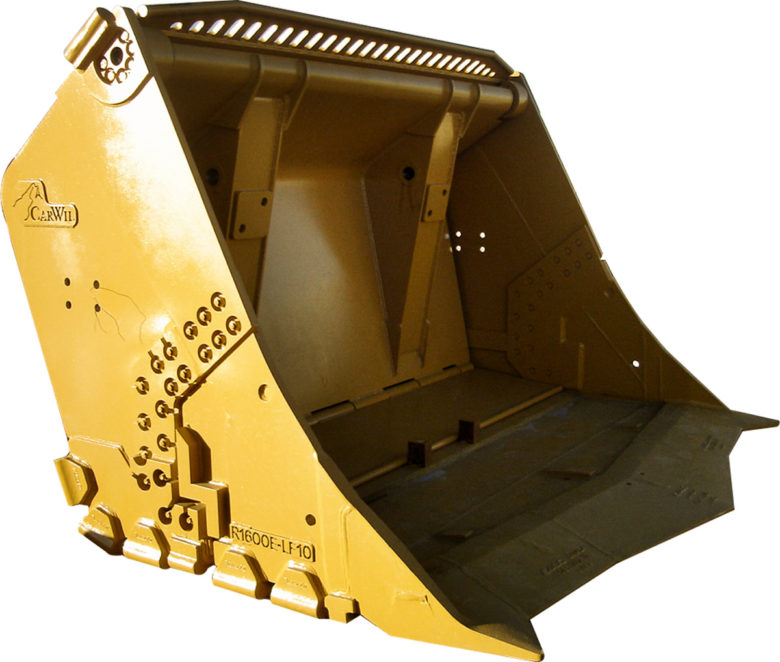 MARKET DIFFERENTIATORS
Several customer concerns lead to the development of the mechanical bucket with replaceable wear components. Today's mines are going deeper and need increased equipment availability with minimal downtime for maintenance. Deeper mines lead to to higher ventilation costs and many mines want to minimize welding underground. To increase bucket availability our design team paid attention to high wear areas of the bucket such as lips fronts, the basket area of the bucket and the spill guard. These components are produced independently from the back end bucket and are mechanically attached in a fraction of the time required than a traditional welded rebuild. The use of collet style pins and proper lubrication will allow the back end of the bucket to remain on the boom as components are changed while eliminating costly align boring and further reducing rebuild turnaround time. Mechanical components can be changed at the same time as the loader is scheduled for regular service. Other designs have been developed to ease the logistical transportation of these critical components using the mine's current infrastructure. The elimination of costly weld repair, customized wear packages and the user-friendliness of the mechanical bucket increases LHD availability. The mechanical bucket addressed our customers' concerns by increasing productivity through better machine availability while reducing welding and rebuild maintenance costs and the need for costly inventory of spare buckets due to shorter rebuild cycle time.